South Dakota Governor Kristi Noem is considered a bright new star in the Republican party, and was feted as such in a Tuesday night appearance on The Ingraham Angle, during which she touted her own "unique approach" in handling the Covid-19 crisis in her home state. However, the inconvenient truth is that South Dakota has the sixth worse Covid-related death rate in the nation, per capita.
Host Laura Ingraham lavished Governor Noem with praise in the context of, what else, a raft of media criticism shown to her viewers. "While the pandemic is basically over South Dakota," Ingraham noted.
"Look how far down the cases have dropped since the peak in November, and the death rate remains below Cuomo without any lockdown settled," the Fox News host added with an impressive chart above her left shoulder.
"They are so annoyed by you," Ingraham announced to her guest. "Why is that, and why do you have a target on your back when it comes to the American media?"
"You know, I think it is about control," Governor Noem replied. "They have used for the last year fear to control people."
She then explained her successes, at least how it was presented by Ingraham.
"In South Dakota, we just took a very different path," she said. "We knew the science told us we couldn't stop the virus. We could slow it down and protect people who might be vulnerable and make sure we have enough hospital capacity to take care of those who need it, but that we would do it together and allow people to be flexible to take care of their families and put food on the table."
"That was a unique approach that, for our people, worked really well," the Governor concluded.
Here's the thing, though. South Dakota's approach has worked really well to spread the potentially deadly pathogen and less so for the people that she serves. How so? South Dakota has the sixth worse death rate due to Covid-10, per capita, in the entire United States. This is according to state-released data collected by the NY Times and presented below in convenient graph form: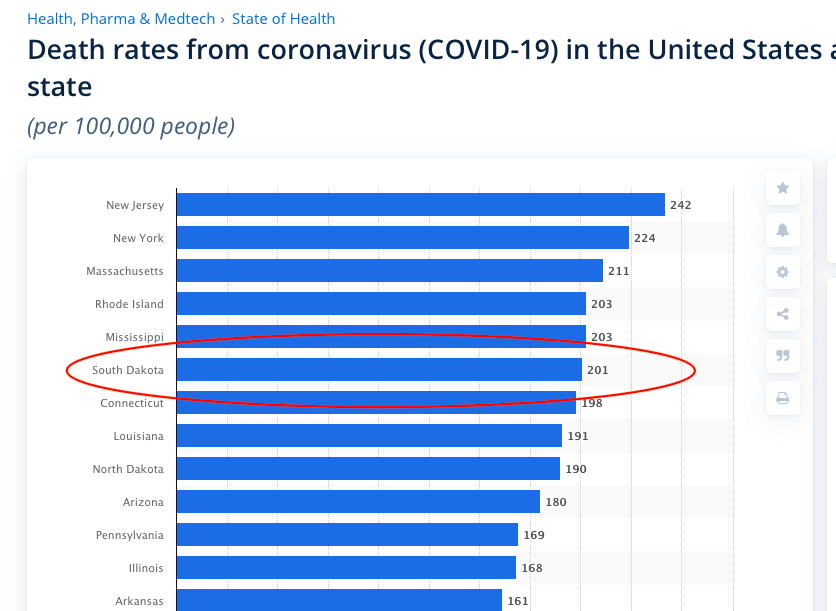 And it's not just a poor death rate in comparison to other states since the deadly pandemic hit our shores roughly a year ago. The infection rate, per capita, for the state of South Dakota, is currently the seventh-worst in the nation.
According to the Johns Hopkins Cororonavirus Resource Center, the daily infection rate stands at just over 20 percent positive, which is only better than Alabama, Pennsylvania, Idaho, Iowa, Kansas, and Mississippi. By comparison? Governor Cuomo's New York has a 5.1 percent positivity rate per capita, ranking it as 34th in the nation.
Watch above via Fox News.
Have a tip we should know? [email protected]